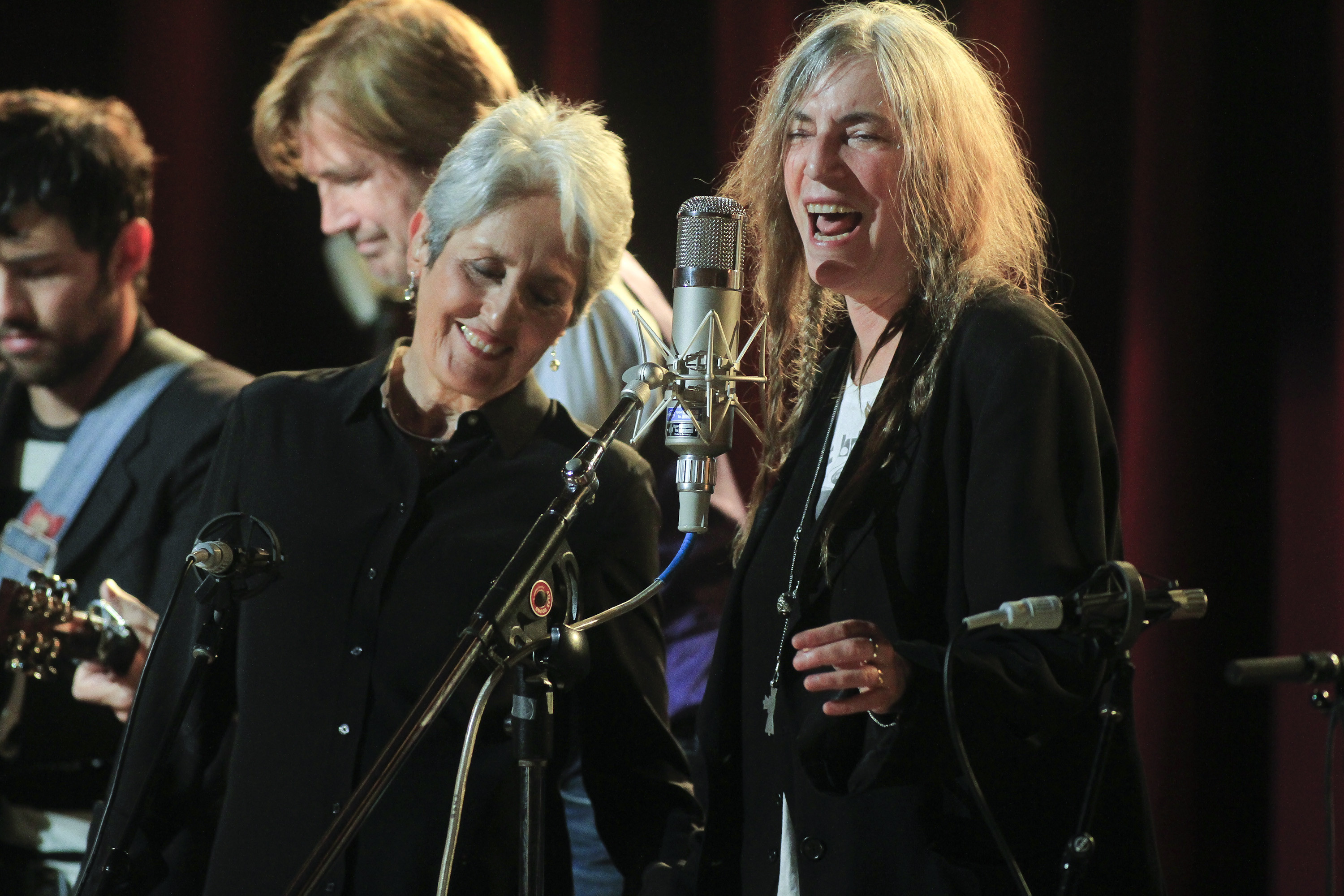 Instead it was a pigeon that decided to express its discontent by pouring its droppings into bassist Jared Followill's mouth. The band ended the show after only three songs. Britney Spears (2009) Location: Hartford, Conn. What happened: Britney Spears was performing "Womanizer" during an encore when an audience member lept onto the stage. Spears was visibly frightened, shaking and calling for help into a microphone headset that was obviously turned off. (Skip ahead to the 2:15 marker to watch Spears' brief freakout.) Amy Winehouse (2008) Location: Pilton, England What happened: While performing at the Glastonbury Festival, Amy Winehouse climbed down from the stage to sing among the crowd. A fan tossed his hat into the air, hitting Winehouse's beehive hairdo and prompting her to take out her ire by elbowing an unsuspecting fan who had not actually thrown the hat. Fall Out Boy (2007) Location: Chicago What happened: During a SPIN Magazine party at a rock club, Fall Out Boy's acoustic set was punctuated by a fan shouting insults at the band, particularly lead singer Pete Wentz, calling him a "sellout." Wentz engaged the fan in some onstage banter but proceeded with the show. While he was exiting the venue after the show, the heckler grabbed Wentz's hoodie, and Wentz punched him in retaliation. Akon (2008) Location: Fishkill, N.Y. What happened: After a 15-year-old concertgoer tossed something onto the stage during Akon's performance, the rapper summoned the crowd to point out the perpetrator.
'Peas Turn Up the Beet!' concert at The Ark aims to put the culture back in agriculture
4. Joan Baez and Patti Smith performed together. This was totally normal. 3. The Punch Brothers' versatility As Marcus Mumford joked, The Punch Brothers acted as de facto house band for the evening, playing alongside pretty much everyone. Yet it was during a performance of "The Auld Triangle," an Irish standard written for the 1954 play "The Quare Fellow," that The Punch Brothers (with help from Mumford) were at their best. The song also appears on the "Inside Llewyn Davis" soundtrack. 2. Carey Mulligan's off-hand charm. Mulligan plays a folk singer in "Inside Llewyn Davis", and got to perform a pair of songs during the concert, including "Didn't Leave Nobody But The Baby" and "500 Miles," the latter with Elvis Costello. "This has been done by everyone from Peter, Paul and Mary to, well, me.
Bernard has drawn comparisons to Woody Guthrie and Neil Young as a songwriter and folk-rocker. Erlewine plays guitar and violin and is a songbird reminiscent of Patsy Cline and Patty Griffin. Breathe Owl BreatheCourtesy photo Theres a connectivity with both these bands, said Paul Bantle who, with his wife Anne Elder, are full-time farmers at Community Farm of Ann Arbor, just west of town. We knew Seths father, we knew Earthwork Farms (owned by the Bernard family) years ago. Seth grew up into the music world hes amazing, electric. Breathe Owl Breathe is extremely popular among young people, and Andrea Moreno-Beals used to be a co-worker on our farm, added Bantle. Both groups have played at our Fall Festivals, helped us with fundraisers essentially they have donated their time. This year, money raised via the Kickstarter program and the concert will help pay the musicians, other expenses associated with the concert, as well as to fund outreach and education. The whole idea is to raise awareness of the farm and this whole nexus point between agriculture and the musical life, Bantle explained. Now in its 26th year, CFAA was the area's first CSA farm and the eighth CSA farm in the country. For half of its history, Community Farm was the only CSA farm in the area. Nnow there are nearly 40, and 25,000 in the country Its part of fast-growing local movement that helps people get in touch with the land and with the food that they eat, said Bantle. The thing thats impressive about it is that the young people, in their early 20s and 30s, are totally resonant with it. A lot of them have been to schools, colleges, universities, and they want to apply themselves physically, maybe outdoors, and they want to learn about their diet, and they want to have a direct relationship with the elements.
The band performed songs from the group's debut album, Amok, as well as songs from Yorke's solo debut and Radiohead b-sides. (Photo by Kyle Gustafson / For The Washington Post) By Patrick Foster, E-mail the writer Thom Yorke discussed the recording process for his Atoms for Peace project with an interviewer recently, describing how the band got wasted, played pool and listened to Fela Kuti all night. At a three-quarters-full Patriot Center on Monday, there were traces of Kutis seminal Afrobeat style and an informal party vibe in the air, but it was the slithering, sinewy electro-rock supporting Yorkes talismanic vocals that dominated the event. Looking for things to do? Select one or more criteria to search Kid-friendly Get ideas The Radiohead frontmans Atoms for Peace is a supergroup of sorts, featuring Red Hot Chili Peppers bassist Flea, Radiohead producer Nigel Goodrich (who played keyboards and occasional guitar), drummer Joey Waronker (known for his work with R.E.M. and Beck) and percussionist Mauro Refosco (of frantic New York-via-Brazil band Forro in the Dark). The outfit released its debut recording, Amok, this year, a densely layered, nine-track collection of pulsing beats and fractured rock structures that at its core feels like a tripped-out Yorke solo outing. As Radiohead devotees who seemed to make up the majority of the crowd that filled the general-admission floor of the Fairfax arena well know, the Atoms formed in 2009 and first served as interpreters, playing live versions of songs from Yorkes well-loved solo record, The Eraser. Expectedly, the set list was drawn from both Amok and Eraser (and was identical to reports from recent shows in Philadelphia and New Jersey) but included a couple of detours from those records notably a version of Radioheads Paperbag Writer. The quintet, led by a ponytailed, red-shoed Yorke, worked to free the songs from those recorded impressions, presenting them in loose-limbed, serpentine sections dominated by a constantly onrushing groove. And all night, the groove was the thing: Flea and Yorke (even when he was sitting at the upright piano) were in constant, freaky-dance motion, while the three others occupied a riser behind, workers bent on manufacturing shape-shifting backbeats. As with many side-project/occasional group performances, it often seemed that the musicians were having more fun than the audience, but there were kinetic moments in which the Atoms sounded like more than the sum of their parts. Stuck Together Pieces was genuinely propulsive, with Yorke shifting vocal keys atop a battering groove and a bass riff so authoritative that it touched off a spasms of joyous (albeit awkward) dancing throughout the crowd. The oft-reworked Feeling Pulled Apart by Horses was the real peak, the percussionists clawing at the hulking, spectral foundation while Yorke bobbed and weaved around Fleas menacing bass line. It was here that the Atoms made the most sense: five electro-beat-obsessed, minimalist rockers staring into the emotional emptiness of the 21st century and sounding very much like a real band. Foster is a freelance writer.